The new CD - Dancing In The Rain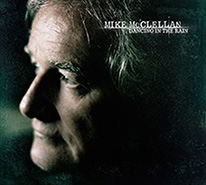 "Four decades has done nothing to erode McClellan's musical strengths, and on the evidence here he remains one of our finest acoustic singer-songwriters". Trevor J. Leeden, Rhythms Sept. 2014.
Many have said that it may be the best collection of songs he has ever recorded in his long and illustrious career. To quote Richard Glover, ABC 702 Drive presenter:
"Mike McClellan just gets better and better. It is such a beautiful album. I loved every song."
The song I Wonder Who You're Waiting For has been released to radio and is already generating enormous interest - Macca, ABC Australia All Over host loves it and has been playing a live version for weeks now.
To purchase your signed copy click on the shop button at the top of the page.
Free album sampler.
If you go to the samples page you can download a powerful new song, Simple Man that was recorded at the same time as the new album but has not been included on the CD.